Spoiled Financial Domme Seeking Moneyslaves: I am a demanding spoiled femdom and you are a weak walking wallet. I command complete control. I will own your mind, cock, wallet, and manhood. As my slave, you will work hard to entertain and please me.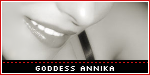 Webcam Worship | Financial Domination | Dominant Mistress | Ignore Line
Is it in yet?
I know you've heard that one before, confess in the comments.
It's tribute Friday moneyslaves and we both know what that means, PAYDAY! As your top priority, I come first and you come second. This isn't a choice, I own you. What's yours is MINE. Look how sexy my gold manicure looks wrapped around what used to be yours, it was meant to be! Go make Goddess proud.
The trick is to stop thinking of it as 'your' money. #FinancialDomination
Send Tribute :: NiteFlirt :: Gifts
your Superior,
Goddess Annika